What is Earthwork? Learn about it here.
If you're new to the field of construction, there can be several terms and concepts that may need additional explanation. Below is an outline of what is being referred to when the phrase 'earthwork' is mentioned.
Earthwork is a significant portion of the site work construction process and involves preparing a site for the buildings (or other purposes) that will ultimately occupy the land. In the case of J.H. Hiers Construction, many times the earthwork involves preparing the site for a multi-lot residential development.
Phases of Earthwork
Earthwork itself consists of two phases. First, the clearing of the land involves removing all (selected) trees and other vegetation. This also includes removing the left-behind tree stumps and roots. Removing large trees can extend completion times and increase costs. In some cases, specifically selected trees will remain and those are wrapped in orange plastic fencing. The fencing marks trees not to remove during the process and protects them throughout construction.
The second step of this process is the moving and/or processing of massive quantities of soil. For example, one articulated hauler can move 18 cubic yards of dirt at a time. That amounts to approximately 40,000 pounds in one load. Moving 50-80 loads of dirt per day is common.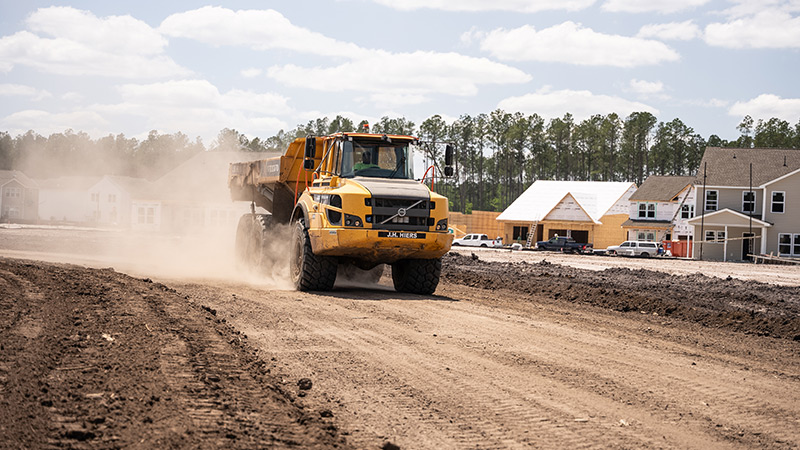 Earthwork is performed to reconfigure the topography of a site (i.e., making the area a suitable height and level to prepare it to be built upon). Earthwork involves excavating (i.e., cutting out) portions of the soil, filling in other portions, and compacting the soil to achieve the desired results.
When preparing the earth for a roadway or parking lot, additional aggregate material is placed on top of the compacted dirt. Aggregate is another name for crushed stone.
Some of the typical pieces of heavy equipment used in earthwork are:
Articulated Hauler (aka Off-Road Truck)
Excavator
Backhoe
Bulldozer
Skid-Steer
Motor Graders
Crawler Loader
The Dirt World Offers Unique and Valuable Services that Make a Lasting Impact on the World Around Us. When You're Here — Get Dirty, Be Safe, Dig First, Learn from Those Who Came Before You, Have Fun, Do Your Best.
Start Your Career in the Dirt World