Learn About Underground Utilities
What are underground utilities in the construction world? Learn about them here.
The term 'utility' refers to the services provided by public utility companies, including electricity, natural gas, water, sewage, and more.
Underground utilities refer to the vast infrastructure of pipes and/or cables that transport water, gas, electricity, and sewer in a residential, public, or commercial development.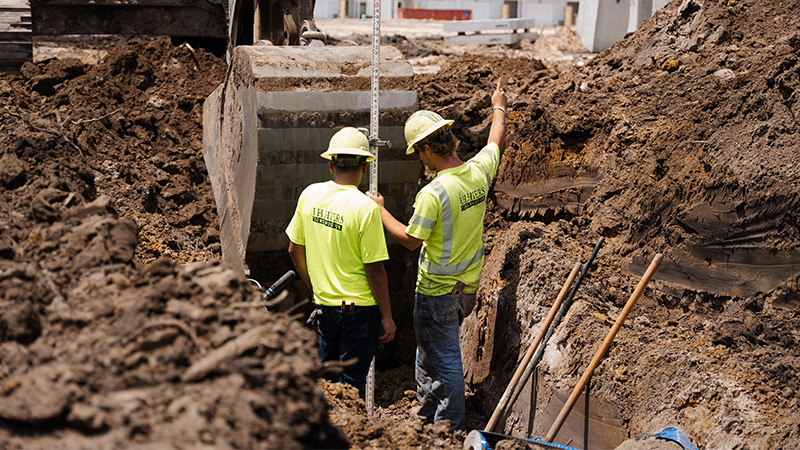 At J.H. Hiers, the installation of underground utilities includes water and sewer lines and the supporting items including stormwater management, box culverts, backflow preventers, and pump stations. We use excavation methods to create the required trenches for installing the respective lines.
Pump stations are required to help move contents of sewer lines when gravity is not enough.
Backflow preventers are installed to prevent the water in a main water supply (e.g., drinking water) from flowing in the reverse direction.  This protects potable water supplies from contamination or pollution due to backflow.
Box culverts are larger than standard storm drain and are installed to handle larger volumes of storm water.
Underground utilities also include private utility lines not the responsibility of J.H. Hiers. These private lines are considered the responsibility of the landowner. These lines may include sprinkler systems, certain electric lines, gas lines, and private sewer laterals. A private sewer lateral is the piping that connects a home's plumbing to the publicly owned sanitary sewer line.
Within the United States, there is a universal color-coding system for underground utilities. At J.H. Hiers, we are most concerned with green piping for sewer lines, and blue piping for water lines.
Once the construction portion of the project is complete, J.H. Hiers turns over responsibility of the land back to the landowner. As such, the public utility company of that area (e.g., Berkeley County Water and Sanitation) becomes responsible for maintaining these new underground utilities.
The Dirt World Offers Unique and Valuable Services that Make a Lasting Impact on the World Around Us. When You're Here — Get Dirty, Be Safe, Dig First, Learn from Those Who Came Before You, Have Fun, Do Your Best.
Start Your Career in the Dirt World